Guiding People with Autoimmune Disorders on the Path to Healing
Since becoming a Mymee coach, Jennifer Costa, "Jen", has helped more than 100 members identify their food and lifestyle triggers to successfully reduce symptoms from autoimmune-related disorders like rheumatoid arthritis, multiple sclerosis, lupus and Covid long haul.
Like all the coaches at Mymee, Jen is an independently certified health and wellness expert walking her own path to recovery from autoimmunity. She has also gone back to school to study more aspects of functional medicine, which focuses on finding the root causes of disease.
Many Mymee clients describe working closely with their Mymee coach as a key part of what keeps them motivated and focused on reaching their health goals throughout the program. Mymee coaches connect with their clients during weekly sessions and directly through the app to provide ongoing support and to help their clients course correct, as they figure out how to navigate their triggers. In addition to being independently certified, coaches are also trained on how to use Mymee's data platform to identify patterns hinting at potential correlations between their clients' triggers and flares in symptoms.
We spoke to Jen about what it's like to become a health coach with Mymee, empowering people with autoimmunity to find their triggers and how having access to data in real time has helped.
Q: Hi Jen! We've heard great things about you. Tell us about what it's like to have a job as a health coach.
Jen: "I love what I do, and a lot of it is really listening to my clients. I have my own autoimmune journey, so I feel it deeply, I get it. I was so sick for so long. I'm not trying to compare, but I want my clients to know they can talk as freely as possible. I want the whole story. I ask about their life. Doctors sometimes just ask about your symptoms. I've been lucky to work with some doctors who are my mentors and changed my life. They always had such love and kindness for their patients and never spoke badly of them and I try to have that same practice: no matter where you are in your journey, you deserve kindness. And of course, we want to build trust with our clients by encouraging them to be open and honest."
Q: What do you ask about first, when you have your first consultation with people interested in the Mymee program?
Jen: "Well, usually we start with nutrition first, because it's a fundamental building block and every day there are choices we make about what to eat that affect how we feel. Usually, clients are tracking for several days before they meet with us, and we try not to make any big changes on day 1, except maybe to drink more water! We meet people where they're at, offering a few things to try. And, believe it or not, even people who are "healthy eaters" need help, because it's about how your food is interacting with your particular body. Is your body speaking to you, with your symptoms? We need to figure out what it's trying to say."
Q: How does tracking food or symptoms help people figure out what their body is trying to tell them?
Jen: "We don't have people put in all the features of what they're eating – we just have them take a picture, and we look for bigger categories, like, what whole foods are they eating? What symptoms seem to be recurring? Are those symptoms related to foods on those days? We peel back to look for patterns. This also builds awareness, because we are so focused. Clients tell me that they begin to think twice: 'Do I really want to eat this?' and that's a way of knowing they are making progress with more mindful eating."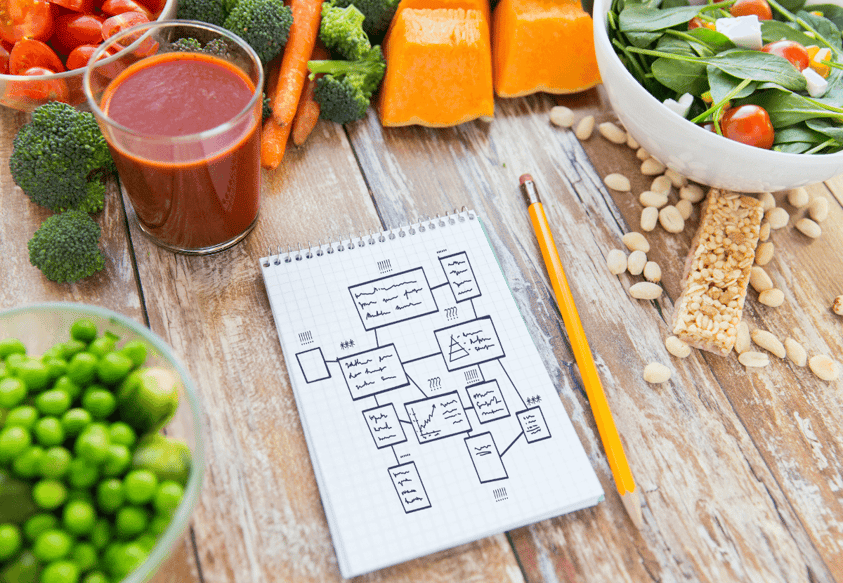 Q: Beyond nutrition, what else are you looking for in your conversations with your clients?
Jen: "I basically tell them, 'Walk me through your typical day.' We will look at sleep, steps and activity.
In order for changes to work, it has to be practical for that person's life. We try to get some small wins in, build confidence. But we are always customizing it to what they want to work on. Just the tracking process helps people notice new things, once we start looking for it. Our body is so interconnected, nothing is really happening in isolation. There might be something in their environment, such as a cleaning product or fragrance, but you know what the invisible cloud frequently is? Stress.
We work on tools for stress management in the moment – a body can't heal in a stressed response. We talk about parasympathetic nervous system responses, and provide some education on how the body responds to stress and what to do about it to retrain your system."
Q: What kind of qualifications do you have to be a Mymee health coach?
Jen: "Well, I'm a certified holistic nutritionist and I've gone back to school for functional medicine – we definitely use that lens on health. There's also a customized training for all Mymee coaches and a certification process. We have access to a variety of resources to help our clients, including our database of solutions that have helped other people living with autoimmune diseases and COVID long haul.
Q: How do you use Mymee's database to help your clients?
Jen:" The data helps me tailor the program to my clients. By tracking food and symptoms, we're able to make correlations by what's happening from the data they're sharing with me. It's impossible to remember what you ate yesterday, never mind last week. Tracking in the Mymee app helps my clients give me an accurate understanding of their daily and weekly nutrition habits. It's what helps me be able to identify triggers for them that are related to the symptoms they're tracking. For example, rather than avoiding large categories of foods, we can be specific by seeing exactly which food or ingredient may be the culprit."
Q: What are some ways you reassure people about the help you're able to provide?
Jen: "I think people worry that we're here to judge them, or to yell at them. It's just not how we do things. We are trying to help get their body in balance and make suggestions to continue to cultivate a lifestyle of health. We want to help, and offer solutions for the frequently frustrating journey with autoimmune disorders. I believe that our bodies are incredible – and that in addition to conventional treatments, there are still more things that can be done to improve quality of life. I genuinely love what I do, and nothing makes me happier than seeing people light up when they are feeling better."
Q: What is your favorite part of being a Mymee coach?
Jen: "This is a tough one! How do I just pick one? I would have to say, the ability to work with clients consistently for a few months at a time, and really getting to know them personally, know their story, and form a true partnership with them. Rather than just having one-off coaching sessions, I love the comprehensive approach we take."
Learn more about the Mymee Coaches and how they can help you take back control from your autoimmunity or COVID long haul symptoms.