You've likely been told to finish the veggies on your plate starting from childhood. Or, you've always heard that you should incorporate a particular amount of fruits or grains into your daily meals. While these foods may be helpful (and healthful) for many people, they can cause symptoms for others.
For those with autoimmune diseases, the relationship between foods and how they make you feel can be complicated. For example, certain foods, like tomatoes, are well regarded as being anti-inflammatory. But, some people with lupus find that tomatoes and other nightshades actually cause symptom flare-ups.
If you live with an autoimmune disease, it's difficult to know how to best shape your diet. Rheumatologists often say no one diet helps with autoimmune disease symptoms, and Mymee's Care Team agrees. A rheumatologist might recommend the assistance of a nutritionist for a tailored meal plan to reduce inflammation, and this may provide some valuable support.
Mymee goes further by providing individualized dietary recommendations to take each person's unique symptom triggers into account to affect symptom management outcomes. Mymee doesn't recommend meal plans at the start because it takes time to identify which foods are best and worst for clients with complicated cases.
Are you considering adjusting your diet as a possible way to address fatigue, brain fog, joint pain, or other autoimmune disease symptoms? We've outlined the key differences and similarities between working with a Mymee health coach and a nutritionist to help you make the best choice for you.
Breaking Down Which is Right for You: Mymee vs. a Nutritionist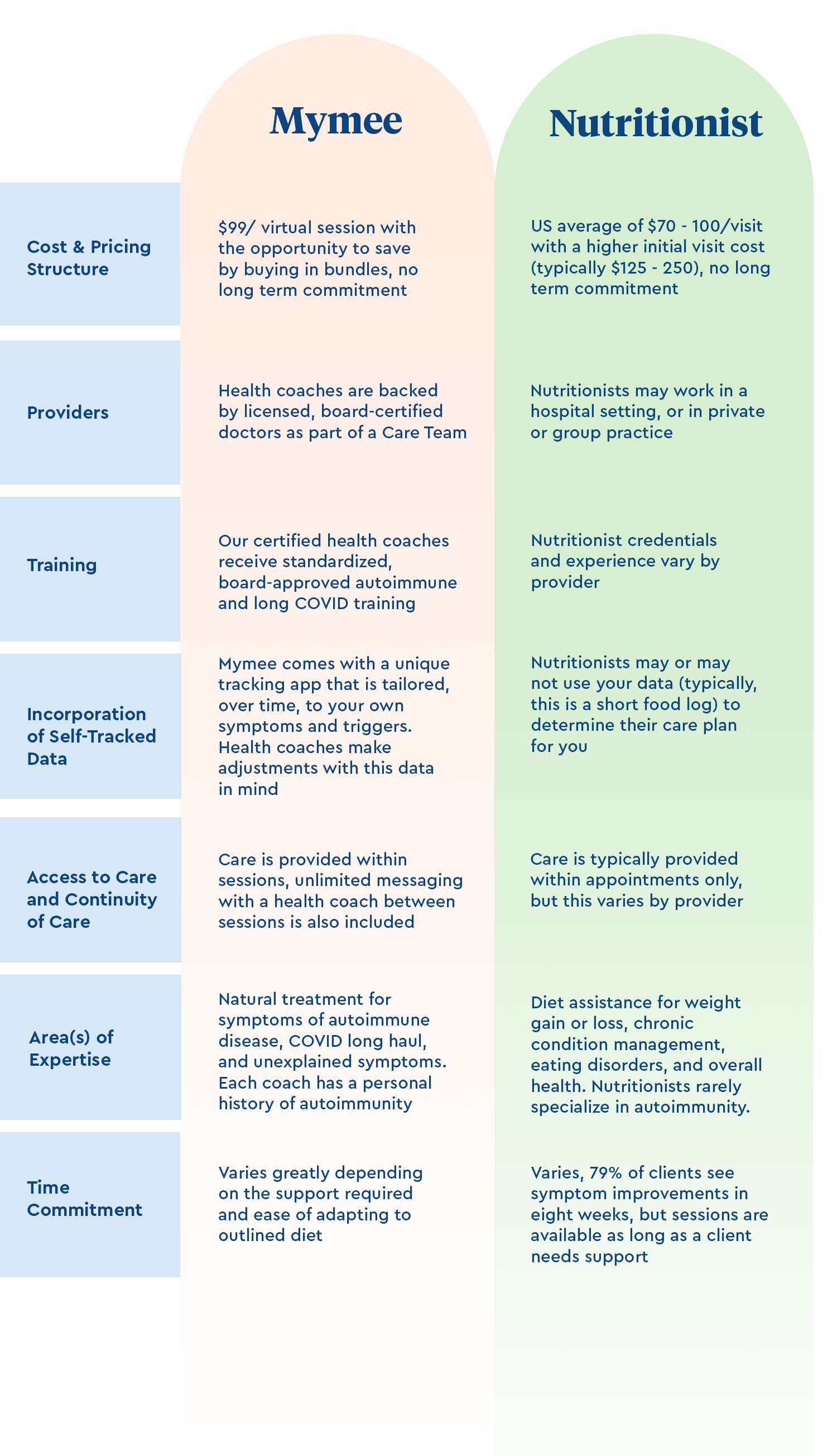 Approach to Using Diet for Health Improvements and Management
With Mymee, clients work one-on-one with certified health coaches to review their diet and make connections between what they eat and how they feel. Mymee considers autoimmune disease triggers to be unique to the individual. Coaches determine (often down to the ingredient, additive, or cross-reaction) what might be a problem food for a person's flare-up through data analysis and virtual sessions.
Mymee clients receive a tailored care plan, backed by Mymee's expert Care Team, which includes steps to identify dietary and environmental triggers, nutritional supplement support, and symptom management strategies. Health coaches can also provide recipes and support for avoiding trigger foods.
Notably, Mymee health coaches recognize that a lot of change at once is hard, especially when you're not feeling well. You can book sessions at your own pace. Plus, your coach will work to avoid restrictive diets and to understand your threshold for a food even if it's deemed a trigger. So, this means that entire categories of food, or even your trigger food, might not be entirely off the table (literally!).
A nutritionist is a health professional with expertise in using food to promote good health and manage health conditions, including disease. Nutritionists work with clients to achieve outlined goals, including weight loss, weight gain, or meeting specific dietary needs. Some nutritionists also provide support for people with eating disorders.
Nutritionists will be able to understand your dietary concerns. They offer meal plans and ingredient options. So, for example, if you decided to opt for a diet heavy in anti-inflammatory foods, a nutritionist could help you make this a reality while also ensuring that you receive the necessary nutrients for optimal health.
Both Mymee and a nutritionist are able to provide specific guidance on what to eat or not to eat with the shared goal of good health and fewer symptoms.
Cost and Timeline for Care
At Mymee, one-on-one virtual health coaching sessions are $99 each. Savings are available if sessions are purchased in a bundle. The cost of Mymee also includes unlimited messaging with your health coach, care backed by licensed, board-certified doctors, full access to Mymee app features, and recommendations for supplements, recipes, stress reduction techniques, medical testing, and expert information on autoimmunity.
Mymee sessions are available to book at your own pace with no limit or required membership. While there is no overall recommendation for the number of sessions, 79% of clients report feeling better in eight weeks. But, your health coach will be available to meet indefinitely for as long as you need support.
The cost of an appointment with a nutritionist (either in-person or virtual) can range depending on the nutritionist's experience, the location of the practice, services offered, and other factors. Oftentimes, the first appointment is more expensive and can be between $125 and $250. Follow-up appointments are typically less and could be between $50 and $150.
Nutritionists can work with clients for just a few appointments to establish an eating plan. However, consultations over months or years will produce the best results. Reinforcing new ways of eating can take time, and support is helpful.
Mymee is HSA/FSA eligible, and nutritionist services can be HSA/FSA eligible as well. Some insurers will cover the costs of working with a nutritionist.
Areas of Expertise
Mymee is specifically dedicated to helping people with autoimmune diseases and autoimmune-related conditions, including COVID long haul. Mymee's Care Team is made up of experts in autoimmunity who also have chronic illnesses themselves and have managed their symptoms through trigger identification.
Nutritionists treat a more general population, but there are those who specialize. Common nutritionist specialties include sports nutrition, pediatric nutrition, eating disorders, disease management, and gerontological nutrition. Nutritionists have an expert understanding of the relationship between food and its nutrients, diet, and disease.
How Care is Provided
Mymee provides care through one-on-one health coaching. Health coaches meet virtually with clients and provide thorough, individualized care plans for identifying autoimmune disease symptom triggers. Coaches also recommend supplements and testing when necessary and delve into symptom management strategies.
With Mymee, clients track key factors from their day-to-day life (like meals, sleep, water intake, and more) and symptoms in the Mymee app. Mymee health coaches assess this data and make connections between flare-ups and aspects of a person's environment and diet. Once triggers are confirmed, clients are empowered to avoid them (of course, with encouragement from their dedicated coach).
Nutritionists meet with their clients to understand their health struggles and health goals. Nutritionists develop meal plans to help to achieve things like chronic condition management, nutrient optimization, weight management, and more. Care may be provided either remotely or in-person, in an office setting, or sometimes even in grocery stores or restaurants for real-time guidance.
Key Differences
Both Mymee and nutritionists can provide one-on-one coaching to understand better how diet plays a role in overall health. But, there are clear differences in approach and application.
Mymee is focused on autoimmune disease symptom reduction and elimination. Mymee's Care Team understands autoimmunity and how to use diet to break away from debilitating fatigue, brain fog, joint pain, and more.
Mymee heavily incorporates individualized data. Mymee health coaches use data to glean insights into which exact foods are making you feel worse to help you be able to avoid them (and start feeling better).
Plus, data makes seeing connections (and marking improvement) even easier for you, too. Once there's a tangible connection between (let's say) those bananas and your headaches, you'll be motivated to ditch them – and fast!
Mymee knows a "good" food and a "bad" food can be very different among individuals with autoimmunity. Mymee health coaches take an extremely personalized view of food, down to the ingredient.
Mymee gets to know the whole picture – not just the foods. Whether it's mold lurking in drywall or how consistent (or inconsistent) bowel movements are, Mymee health coaches have identified important symptom causes in all aspects of life.
So, is a Nutritionist or Mymee Better For Me?
It's no secret that diet plays a direct role in our health. Poor nutrition can lead to many complications, including obesity, heart disease, stroke, cancer, type 2 diabetes, and mental health struggles. It makes sense; food fuels our bodies.
If you are one of the 23+ million Americans with an autoimmune disease, diet could play a significant role in how you experience related symptoms. Both Mymee and nutritionists can each work with you to provide more information on the foods you regularly eat and what changes might help you feel better.
Mymee understands that a healthy diet looks different for each person with autoimmunity. If you're ready to start understanding your unique dietary triggers, book a session with a Mymee health coach.