Managing lupus is different for everyone. Everyone has unique triggers and symptoms, learn how Mymee helped Sherry take control of her lupus symptoms, and avoid gastric pacemaker surgery in this success story.
CASE OVERVIEW
Sherry was diagnosed with systemic lupus erythematosus (SLE) in 2008, and treated with prednisone for 7 years. Her past medical history is significant for insulin-dependent diabetes mellitus (IDDM) since 2010, hypothyroidism (diagnosed during her first pregnancy at age 19), fibromyalgia, pervasive developmental disorder (PDD) and hypovitaminosis.
When Sherry started the Mymee Program in February 2018, she had developed lupus nephritis with proteinuria and diabetic retinopathy. She was considering a gastric pacemaker procedure to alleviate stomach pain from gastroparesis, and also suffered from fatigue, brain fog and pain in multiple joints. Chronic back pain secondary to a herniated disc had been diagnosed by MRI and CT scan.
Sherry's daily life included significant stress associated with being the sole provider for her family, managing her frequent physician visits, complying with 27 prescription medications and balancing work with family time.
When she started Mymee, her personal goals included being able to go to the park, travel and work a full day.
PROGRAM ELEMENTS
Sherry received access to the Mymee mobile app, which was then customized to match her specific symptoms and to make it easy for Sherry to capture the relevant data required to correlate her specific symptoms with potential triggers in 5 minutes or less a day.
Sherry was assigned a certified Mymee health coach trained on Mymee's platform, research, methodology, analytics and tools. The coach worked with Sherry on a weekly basis to uncover specific correlations between symptoms and triggers, and to support the process of implementing changes to eliminate triggers in sustainable and practical ways that work for Sherry's lifestyle and environment. In addition to one-hour weekly calls, support included unlimited texts to ensure Sherry's time sensitive questions could be addressed between sessions.
TRIGGERS IDENTIFIED THROUGH MYMEE
Sherry's case required isolating key triggers associated with 4 severe symptoms.
When Sherry began the Mymee Program she was feeling overwhelmed. Through Mymee 9 dietary triggers were directly correlated to symptoms, and Sherry successfully implemented 5 interventions that resulted in significant symptoms reduction. (see Figure 1).
PROGRAM RESULTS (see Table 1)
Sherry reported that the quality of life improvements she achieved through Mymee, exceeded her expectations. Her pain steadily decreased, while her energy increased, and she began having regular bowel movements. and brain fog lifted in response to strict elimination of her data-derived food triggers. By session 4 (S4), Sherry´s sleep patterns had changed, allowing her to sleep through the night and feel awake in the morning. She continued to identify food triggers and make lifestyle changes, and by S7, had not experienced a lupus-related arthritis flare in several weeks.
"After 3 days of cleaning my house, and one day of relaxing, I am feeling great - able to keep up with everything easily now." - Sherry
LupusQoL: A lupus-specific HRQoL questionnaire evaluating 8 domains: physical health, pain, planning, intimate relationships, burden to others, emotional health, body image and fatigue. Each domain is scored individually on a scale of 0-100 (100 = best quality of life). Minimally important differences for deterioration and improvement have been established for each domain and are: Pain (deterioration -4.7, improvement 6.8); Physical Health (-3.4, 4.0); Emotional Health (-3.7, 4.7); Fatigue (-3.2, 6.6); Body Image (-2.4, 3.5); Planning (-4.0, 3.8); Intimate Relationships (-8.7, 7.1); Burden to Others (-5.0, 7.3).1,2
FIGURE 1: SYMPTOMS, TRIGGERS CORRELATED, INTERVENTIONS

TABLE 1: LUPUS QUALITY OF LIFE QUESTIONNAIRE RESULTS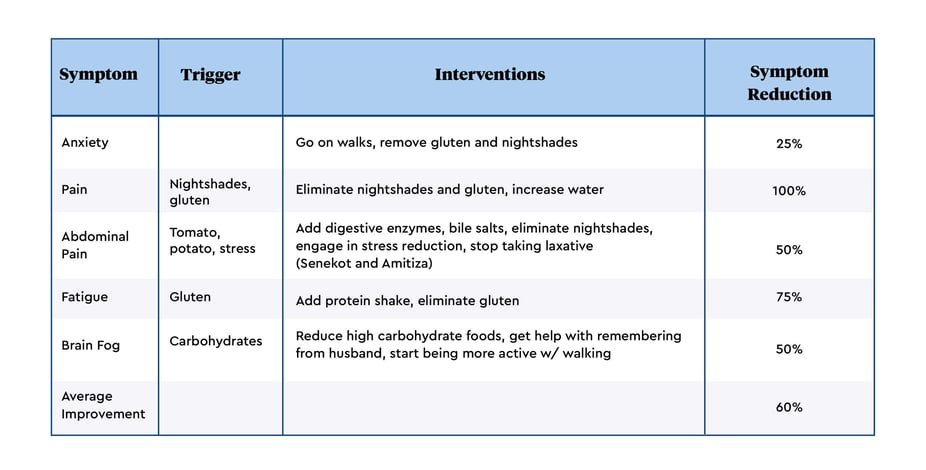 KEY TAKEAWAYS
The addition of Mymee to usual care improved Sherry's gastroparesis (obviating the need for gastric pacemaker surgery) and reduced her indirect medical costs by enabling her to return to full-time employment. She was able to discontinue 3 medications: metoclopramide, lubiprostone and omeprazole (other medications remain unchanged)
REFERENCES
McElhone K, et al. Development and validation of a disease-specific health-related quality of life measure, the LupusQol, for adults with systemic lupus erythematosus. Arthritis Rheum. 2007;57(6):972-979. doi:10.1002/art.22881

McElhone K, et al. Sensitivity to Change and Minimal Important Differences of the LupusQoL in Patients With Systemic Lupus Erythematosus. Arthritis Care Res (Hoboken). 2016;68(10):1505-1513. doi:10.1002/acr.22850.