For those living with Rheumatoid Arthritis, exercise can seem daunting. Finding effective exercises for RA relief is a great way to manage your RA symptoms.
Exercise can improve blood pressure, cholesterol, mood, and sleep, but it also has benefits that are especially helpful for people living with RA. Some of these benefits include less bone loss and small joint damage and no increase in pain or decrease in activity.
If you're living with rheumatoid arthritis, exercise may be one of the last things you want to do. Rheumatoid arthritis symptoms tend to change and fluctuate day by day, which can make predicting energy for exercise difficult. Physical activity can be vital in managing your pain and functional limitations. The key is listening to your body and taking it easy with the workouts and activities you choose to do.
Here are some tips to help you get started:
Stretching
Stretching is one of the most important parts of exercise for RA relief. Active stretching helps to maintain and improve flexibility as well as reduce joint stiffness. Stretches can be done throughout the day but are especially beneficial if done upon waking up each morning.
Hold stretches for a minimum of 10-15 seconds. Yoga is a great way to incorporate stretching into your day. During Yoga, you will practice mindfulness and correct breathing techniques. This type of focus elicits a parasympathetic response to get your body into healing mode, which can be beneficial to your RA symptoms.
Aerobic Fitness
When starting an aerobic exercise program, we recommend low-impact activities such as walking, cycling, swimming, elliptical, or rowing machines. It is important to build muscle slowly to reduce painful symptoms for people with RA that experience joint pain or issues with a range of motion.
Start with smaller workouts of 5-10 minutes multiple times a day depending on your pain levels (listen to your body!). Aim for 3-5 days/wk of light to moderate aerobic activity.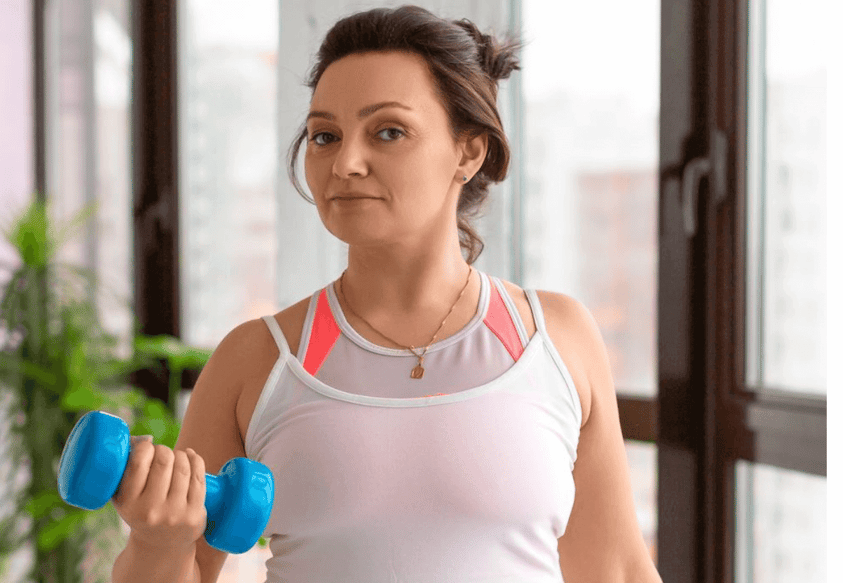 Strength
Bodyweight exercises are a great place to start when trying to improve your strength. It's best to start out with light strength training and gradually increase intensity. Include exercises that work major muscle groups such as wall push-ups, air squats, modified planks, glute bridges, etc.
Initially, be conservative and aim for 6-8 repetitions and 1-2 sets of each bodyweight exercise, but if you do less- that's certainly ok. Again, listen to your body! As time goes on, you may be able to add more repetitions and more sets.
Other Tips for Relief
Time your exercise to be during the time of day that you exhibit the least amount of pain.
If there are predictable times during the day where you are primarily sedentary, it'll relieve some pressure to get moving. Try setting an alarm to help you remember to get up and move every 30 minutes, even for just 1-2 minutes.
During a flare, avoid strenuous exercise, but doing gentle stretches during this time may help with discomfort.
You may opt to work with an exercise professional to develop a routine that's right for you. A trained professional or physical therapist will be able to incorporate functional activities into your exercise regimen. This could be progressive work such as building sit-to-stands, walking up stairs, etc. They can also find exercises that avoid flaring up your symptoms, however it manifests for you.
Mymee has certified health coaches waiting to help you with your RA symptoms. Mymee health coaches work with you to track your environment and lifestyle to find what's behind your RA triggers. By working together you'll set realistic exercise goals and make small daily changes, to free yourself from your symptoms.