Giana was diagnosed with Crohn's disease in 2001 and rheumatoid arthritis in 2004. In February 2019, she began treatment with Humira 40mg weekly and prednisone 10mg daily for poorly controlled Crohn's and RA. She was also using tramadol regularly to control pain. Giana was aware that food affected her disease and symptoms and ate an extremely restrictive diet, fearing that deviation from her "tolerated" foods would aggravate her autoimmunity.
When she began Mymee, in March 2020, Giana had been in a RA flare since undergoing abdominal surgery 13 months earlier and had continuous pain in her ankles, back and elbows, which greatly limited her ability to engage in physical activity, despite treatment. She was also experiencing bloating, poor memory, elevated stress and weight gain.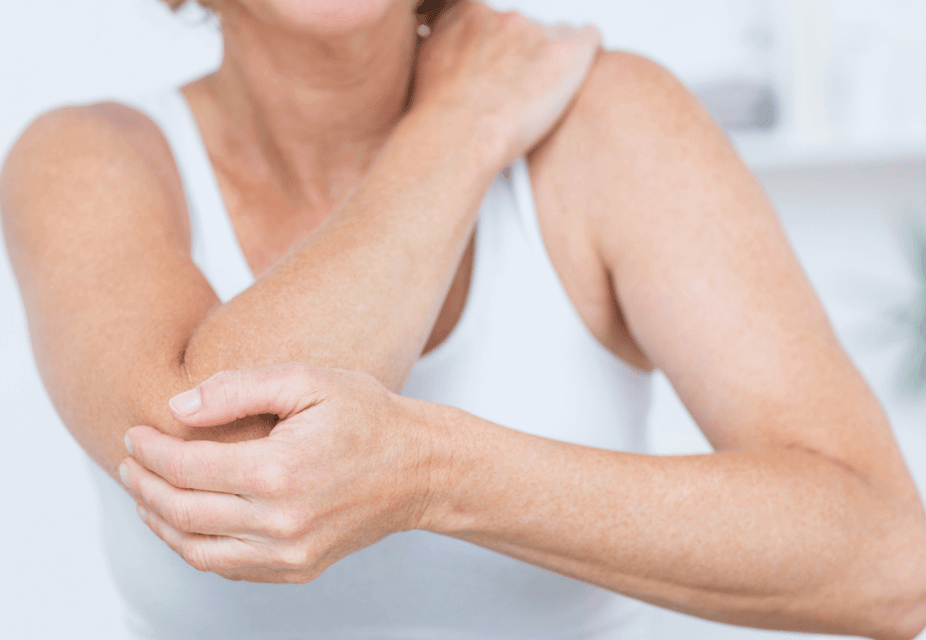 After four months on the Mymee Program, Giana had a much better understanding of what specific foods she needed to avoid to control her symptoms and, importantly, was able to safely reintroduce many healthy foods back into her diet. Giana reported feeling "almost normal" again and enjoyed many days with reduced or no pain and significant improvements in quality of life, including being able to enjoy independent walks outdoors.
Program Elements
Giana received access to the Mymee mobile app, which was then customized to match Giana specific symptoms and to make it easy for Evan to capture the relevant data required to correlate her specific symptoms with potential triggers in 5 minutes or less a day.
Giana was assigned a certified Mymee health coach trained on Mymee's platform, research, methodology, analytics and tools. The coach worked with Giana on a weekly basis to uncover specific correlations between symptoms and triggers, and to support the process of implementing changes to eliminate triggers in sustainable and practical ways that work for Giana's lifestyle and environment. In addition to one-hour weekly calls, support included unlimited texts to ensure Giana's time sensitive questions could be addressed between sessions.
Triggers Identified Through Mymee
Giana's case required on the one hand identifying what hidden triggers were still affecting her despite her elimination diet, and on the other, to find out what among the foods that she had eliminated, could be safely added back.
By week 8, Giana had completely eliminated grains and experienced significant improvement. Her gas and bloating had resolved and days with pain became infrequent. She experienced fewer chocolate and sugar cravings and was no longer snacking on pretzels. She was also able to add lean red meat and whole eggs back into her diet with no adverse reactions.
Program Results: Measuring Real World Meaningful Outcomes
By week 12, Giana tapered off prednisone as well as tramadol and no longer required follow up by the pain management team. She was ambulating without assistance and enjoyed walks independently outdoors.
By the end of the 4-month Mymee Program (EOP), Giana reported a reduction in severe symptoms (from 6 to 0) with changes in libido or sexual dysfunction (from 4 at baseline to 0 at EOP), pains or aches in joints (3 to 2) , stiffness or limitation of movement (3 to 2); poor memory, confusion or lack of focus (3 to 0); hair loss, thinning (3 to 2) and excessive weight (3 to 2).
Clinical surveys and reported outcomes at beginning and end of Mymee Core program:
PROMIS® scores: Meaningful improvements achieved in 5 of 10 domains total, including:
Improvement of Cognitive Function by 16.9 points [minimally important difference 4.1-6.0]

Managing symptoms 13.9 (4.4-5.7);

Pain interference 11.0 (3.5-5.5);

Physical function 3.6 (1.9-2.2) .1-3

In addition, pain intensity decreased from 7 to 2 on a 0-10 scale (10 being most severe pain).
RAPID-3: Giana's cumulative RAPID score was 13.3 at baseline, considered high disease activity. Gina's improvement in RAPID-3, changed to a score of 2.7 at EOP, exceeded the minimal clinically important improvement (MCID) and placed her in the "near remission" category.4,5
Symptom questionnaire: Six severe symptoms reduced to 0 by EOP.
Self-reported Client Symptoms Survey Results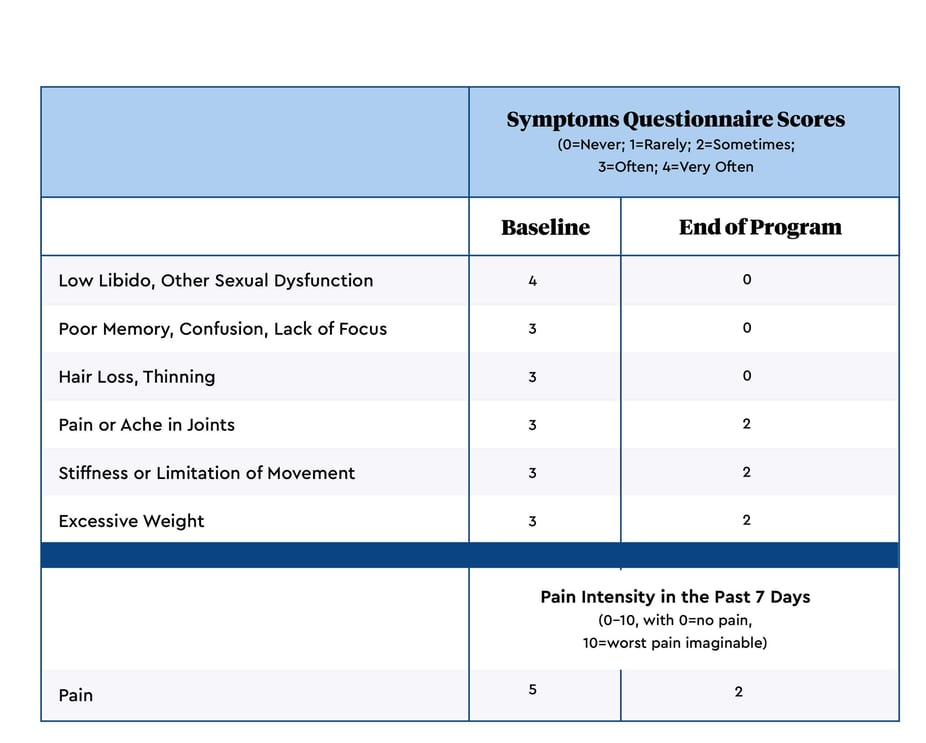 KEY TAKEAWAYS
Adding Mymee to usual care improved joint pain from RA, led to a reduction in pain medication use, discontinuation of prednisone and significantly improved HRQoL for this client with a history of autoimmunity and health issues related to her food sensitivities.
REFERENCES
Health Measures. Cognitive Function. A brief guide to the PROMIS® Cognitive Function instruments. Accessed 12/2/20 http://www.healthmeasures.net/images/PROMIS/manuals/PROMIS_Cognitive_Function_Scoring_Manual.pdf
Health Measures. Self-Efficacy for Managing Chronic Conditions. A Brief Guide to the PROMIS Self-Efficacy Instruments. Accessed 12/2/20 http://www.healthmeasures.net/images/promis/manuals/PROMIS_Self_Efficacy_Scoring_Manual.pdf

Amtmann D et al. Minimally important differences for Patient Reported Outcomes Measurement Information System pain interference for individuals with back pain. Journal of pain research. 2016;9:251-5. doi:10.2147/JPR.S93391

Ward MM, et al. Minimal Clinically Important Improvement of Routine Assessment of Patient Index Data 3 in Rheumatoid Arthritis. J Rheumatol. 2019;46(1):27-30. doi: 10.3899/jrheum.180153.

American College of Rheumatology . Routine Assessment of Patient Index Data. Accessed 12/2/20 https://www.rheumatology.org/Portals/0/Files/RAPID3%20Form.pdf