The road to diagnosis and management of ankylosing spondylitis (AS) is different for everyone. Everyone has unique triggers and symptoms, learn how Mymee helped Evan beat AS and get his life back in this case study.
CASE OVERVIEW
Diagnosed with ankylosing spondylitis in 2010, Evan started the Mymee Core Program with pain and stiffness in his hips that travelled into his back affecting mobility, especially in the mornings. He described having a hard time keeping up with his young daughter around the house and not being able to get up from a meeting without feeling - and looking - like a "100 year old man."
When he started Mymee, Evan expressed a desire for better mobility and to discontinue medication he was taking for pain (naproxen, 500mg BID) and for allergic rhinitis (cetirizine, 10mg QD; fluticasone, 50 u g/nostril QD). By the end of the program (EOP), he'd exceeded his goals having reduced pain, improved mobility, eliminated allergy medications and decreased naproxen to 500mg qd.
PROGRAM ELEMENTS
Evan downloaded the Mymee mobile app, which was then customized to match Evan specific symptoms and to make it easy for Evan to capture the relevant data required to correlate his specific symptoms with potential triggers.
Evan was assigned a certified Mymee health coach trained on Mymee's platform, research, methodology, analytics and tools. The coach worked with Evan on a weekly iterative basis to uncover specific correlations between his ankylosing spondylitis symptoms and triggers.
Then, his health coach supported his progress in implementing small iterative changes to eliminate those triggers in sustainable and practical ways that work for Evan's lifestyle and environment. In addition to one-hour weekly calls, support included unlimited texts to ensure Evan's time sensitive questions could be addressed between sessions.
TRIGGERS IDENTIFIED THROUGH MYMEE
Food-based trigger confirmations led to the elimination of dairy products and foods cross-reactive with latex, including white potato, avocado, carrots and apples.1 Additional interventions included an increase in water consumption and the addition of a daily probiotic beverage.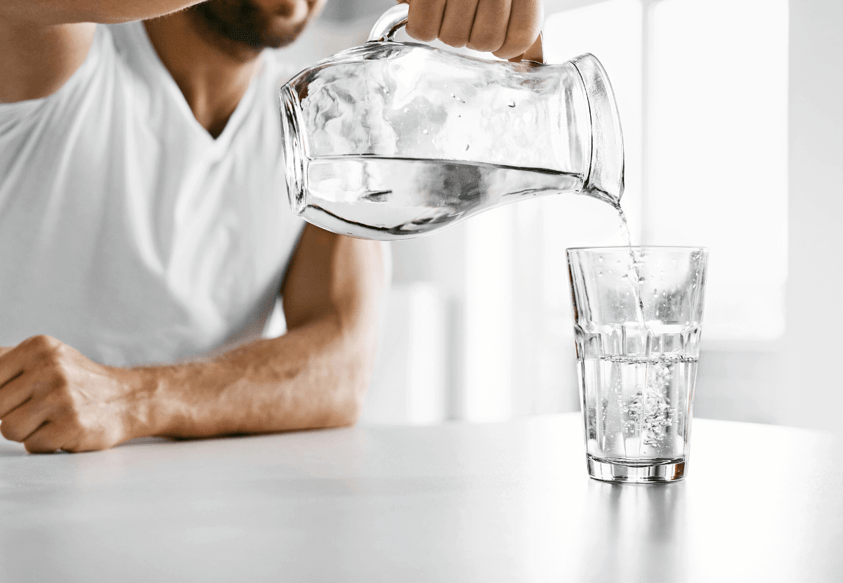 PROGRAM RESULTS
By the end of the 16 Session Mymee Core Program, Evan described improved mobility and dramatic reduction in hip pain, even while he decreased naprosyn to 500 mg daily. During the final weekly session with his coach, he reported no longer needing cetirizine and fluticasone. All severe symptoms improved, leading to HRQoL and subjective disease activity improvements, as indicated in the patient-reported outcomes (PROs).
PROMIS®: Meaningful improvements achieved in 5 of 10 domains total, including an improvement from 7 to 2 on the visual analog pain intensity scale (scored 0-10 with 10 being the worst pain).
BASDAI: Evan's baseline score of 7.5 decreased to 2.5 after 4 months (exceeding the minimal clinically important difference of 1.1).
Symptom questionnaire: Six severe symptoms reduced to 0 by EOP.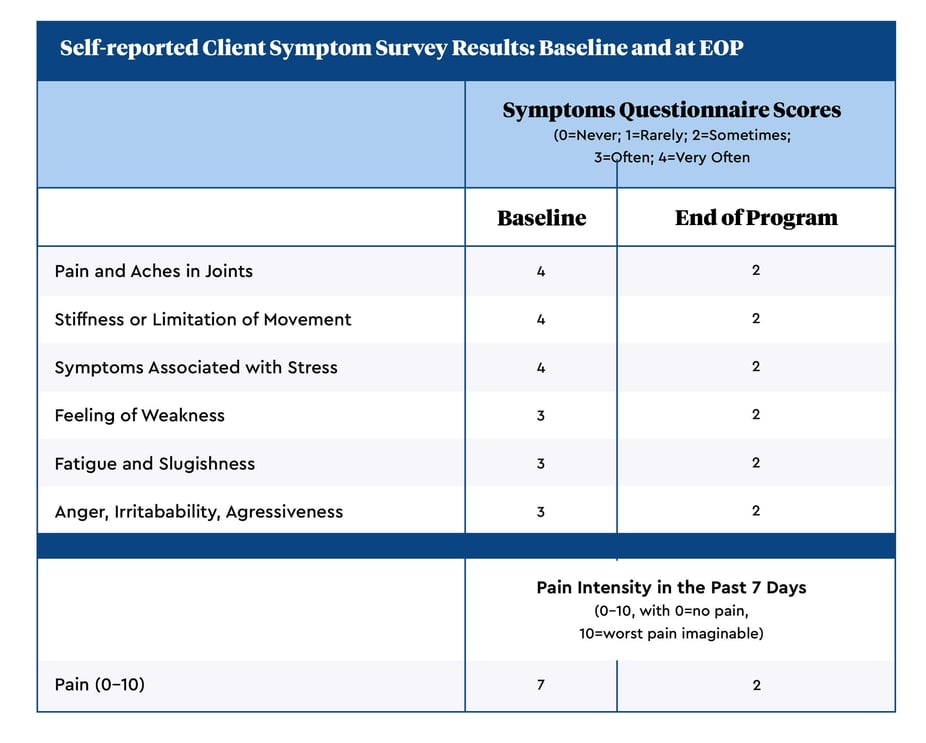 KEY TAKEAWAYS
Removing individual food triggers identified through Mymee reduced bilateral hip and back pain, improved allergy symptoms (to the extent that use of cetirizine and fluticasone was completely eliminated) and improved HRQoL in this client with rhino-sinusitis and AS-related pain.


REFERENCES
Chełmińska, Marta et al. "Differentiating of cross-reactions in patients with latex allergy with the use of ISAC test." Postepy dermatologii i alergologii vol. 33,2 (2016): 120-7. doi:10.5114/ada.2016.59154