Rheumatoid arthritis is an inflammatory autoimmune disease that has four distinct stages - Early, Moderate, Severe, and End-Stage. While there are four stages of rheumatoid arthritis, not everyone who gets diagnosed with rheumatoid arthritis will progress through all stages of the disease.
Early diagnosis, coupled with treatments (like medication, diet, and lifestyle changes) can slow the progression, leading to fewer symptoms, increased chances of remission, and an improved quality of life.
Stages of Rheumatoid Arthritis
The four stages of rheumatoid arthritis are:
Early RA - the synovium (joint lining) is under attack and damage has begun. Pain, stiffness, and swelling are common symptoms at this stage.
Moderate RA - damage has spread from the synovium to the surrounding cartilage, which is meant to protect the surface of the bones in our joints. Pain, stiffness, and swelling continue, range of motion decreases, and we may have more limitations on the activities we can comfortably do.
Severe RA - joint damage has spread to the bone itself, potentially causing deformities that further limit our range of motion and activity.
End-Stage RA - inflammation decreases, though pain, stiffness, and reduced range of motion may continue. Joint damage may have become so severe that the joints no longer work, and other organ systems may also show signs of damage from RA.
The speed with which you progress through the stages depends on many factors, including how early you were diagnosed, how quickly you start treatments, and how successful your treatments are.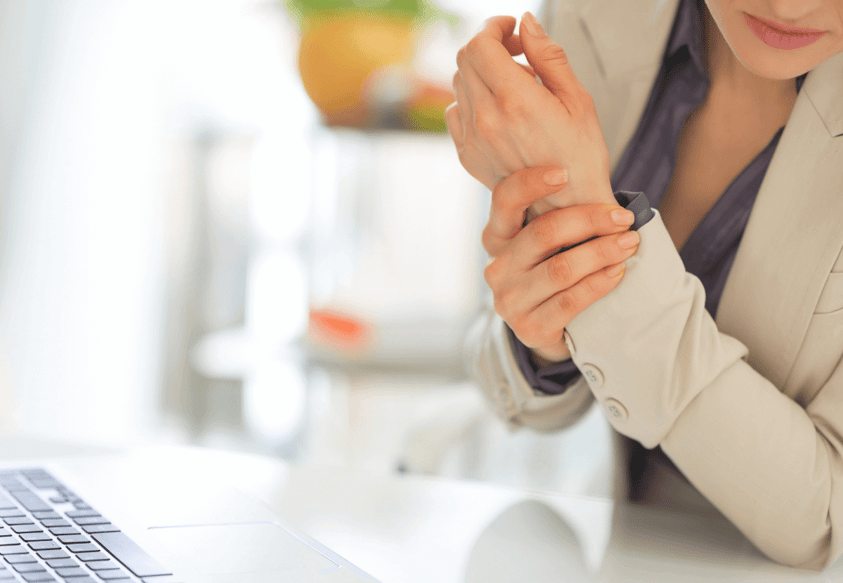 Slowing the Progression of RA
No matter which stage of rheumatoid arthritis you are in, there are treatments available to manage your symptoms and reduce the inflammation and damage that this autoimmune disease causes in your body.
Treatments for Early Stage RA
In the early stages of RA, your doctor may recommend certain medications and lifestyle changes to reduce inflammation and protect the health of your joints. Medications may include non-steroidal anti-inflammatories (NSAIDs), disease-modifying anti-rheumatic drugs (DMARDs like methotrexate, hydroxychloroquine), biologics (like Humira, Enbrel, Remicade, and more), and steroids.
Lifestyle changes may include quitting smoking, getting more exercise and better quality rest, reducing stress or improving stress management skills, and identifying food triggers and removing those from your diet. Studies have shown that 77% of the activities of the immune system are dominated by environment and lifestyle triggers, rather than genetics, so identifying and removing these environmental triggers can be a powerful way to manage RA and other autoimmune conditions.
Treatments for Later Stage Rheumatoid Arthritis
In the later stages of RA, medications and lifestyle changes can still be supportive. If one medication or class of medications has stopped working, your doctor may try switching you to something else. Other treatments that may be recommended include occupational therapy and surgeries (like arthrodesis, synovectomy, and joint replacement) to stabilize, repair, or replace the damaged joints. These treatments can also help to reduce pain and potentially improve joint function.
Remember, no matter what stage of RA you are in, there are actions you can take to manage the disease and improve your quality of life. Both medications and lifestyle changes can play important roles in decreasing inflammation, reducing pain, and protecting the health of your joints. Mymee's Core program focuses on helping people with autoimmune diseases, like rheumatoid arthritis, to identify and remove their individual triggers so they can reduce their symptoms and start feeling like themselves again.