The road to diagnosis and management of Crohn's disease is different for everyone. Each person has unique triggers and symptoms. Learn how Mymee helped Pamela beat her Crohn's disease symptoms and get her life back in this success story.
Meet Pamela, living with Crohn's Disease.
Pamela says, "I was probably the most resistant person to try Mymee." She was sick, in and out of the hospital ICU and CCU units, and ready to give up. Whenever Pamela tried to schedule an appointment with Mymee, she explained that she'd find herself back in the hospital before her first session. "I thought I was beyond help. Then it happened, I decided to go for it. And man, am I glad I did." Pamela now describes herself as being in remission for the first time in 20 years.
Shortly after being diagnosed with Crohn's disease as a teenager, Pamela started experiencing related complications, including the first of many bowel obstructions. Despite a constant battle with my symptoms, Pamela continued to push herself. She started a career as an executive in a healthcare company, had two children, and ran six miles a day.
Then, about 20 years ago, things took a turn for the worse. Pamela endured seven major bowel resections, with most of her small bowel removed, leaving her with short bowel syndrome (SBS). She had her gallbladder and appendix removed. She was hospitalized for eight months in 2018, ending with a transplant team performing a double bowel resection after six months of TPN. According to Pamela, the count of major bowel surgeries went from 7 to 9. She was prescribed a long list of drugs, including a patch to manage pain.
"I lived on chemicals and toast," said Pamela. "I felt like an empty shell." From running miles per day to not even being able to lift her running shoes, Pamela was suffering. She experienced severe weight loss, hair loss, and debilitating fatigue.
"Not once did I have a doctor emphasize the importance of nutrition to me. In fact, they gave me a huge plate of lasagna and garlic bread right after a bowel resection surgery." Without nutrition being top of mind for her health care providers, it wasn't for Pamela either.
Now, Pamela is back to lacing up her running shoes.
When Pamela found Mymee, her health coach emphasized figuring out the triggers behind her Chron's disease symptoms. Using the Mymee app, Pamela tracked her dietary and lifestyle factors, helping her coach to make connections between symptoms and triggers. Through small lifestyle changes recommended by her health coach, Pamela was able to reverse her symptoms and get her life back.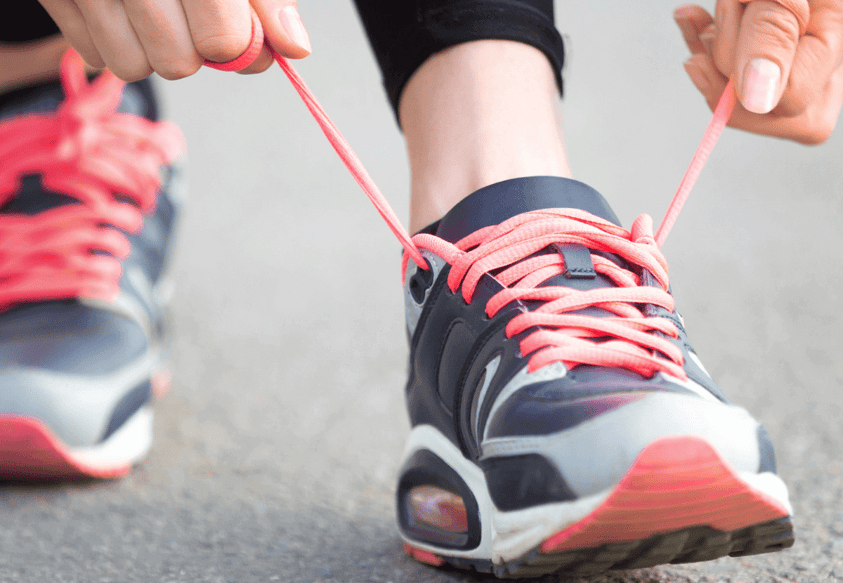 "The best part is that I got my life back," said Pamela. "I know how food and stress impact me, so I control how I feel." Since completing the program, Pamela has taken on her goal to become a public speaker. Whereas before, she could never plan speaking engagements for fear of a flare-up getting in her way, now, she has completed five talks and loves it. "I have even dusted off my running shoes and begun running again," shared Pamela. Excitingly, she ran a 5K over the summer, "and I didn't even come in last place!" Congratulations, Pamela!