The Science: Autoimmunity Is Driven by Environmental Factors



Autoimmunity disorders are one of the most vexing and complex health issues today. While there is no cure yet in 2021, in the last decade, new research tools allowed scientists to demonstrate that diverse environmental triggers, including viruses, bacteria, contaminants, nutrition, stress, UV light and lifestyle, play a more significant role than genetics in disease initiation and progression of symptoms.
Improving gene-sequencing technologies have focused immunologists' attention on the role of genes in diseases. But it appears the environment is an even greater factor in the human immune response.
- Stanford University
Over the last few years, studies have amplified our previous knowledge of the gut and demonstrated its wide-ranging importance and its potentials for triggering autoimmunity [when dysbiosis occurs] as a result of environmental factors.
- Department of Molecular and Experimental Medicine, The Scripps Research Institute
More questions than answers: The challenge for doctors
Unfortunately, new scientific evidence does not come with ready and accessible clinical solutions for how to help patients manage the unpredictable symptoms that characterize their disease. How can doctors offer guidance when there are unlimited potential symptoms and triggers that can vary not only by individual, but by each hour in the day of an individual's life?

Even if finding the precise correlations to every potential unique combination of triggers and symptoms within someone's day to day life were possible, how is it practical or affordable to deliver for a physician? This is where Mymee comes in.
One size fits one: Navigating the "trial and error" of Autoimmunity
Mymee offers patients a solution that replaces the time-consuming "trial and error" process many people go through all alone between visits to their doctors as they search for answers to alleviate their symptoms. Often this includes turning to other forms of treatment for help, adding to already prescribed medications.
The Trial and Error of "Self-Care" Without Mymee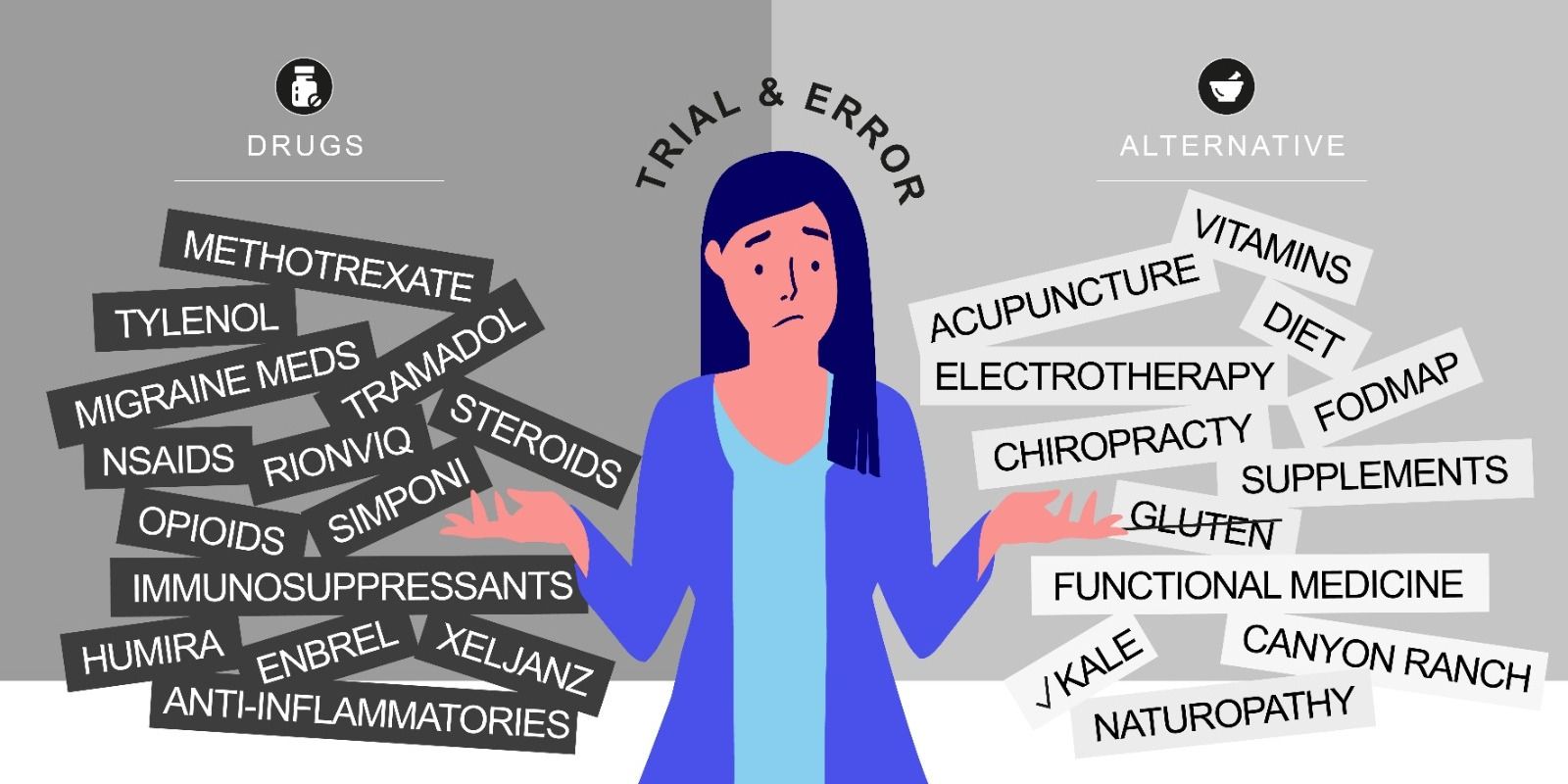 To add to this picture, patients are still blindfolded to the hidden environmental triggers and combinations of triggers in their life that inflame their reactive immune system. No matter how successful an immunosuppressant and any number of alternative treatments have the potential to be, in preventing disease severity for patients, it can only do so much at reducing symptoms, if the immune system is endlessly provoked by its worst pet peeves.
Mymee's solution is not only uniquely powered to pinpoint precise correlations, but also to empower the patient to learn how to draw their own correlations in real time as they move forward in life. Mymee was tested on over 1,000 "n of 1" cases of autoimmunity, from more common diseases such as Lupus, Rheumatoid Arthritis, Psoriatic Arthritis, IBD, Crohn's, Hashimotos, and Sjorgen's syndrome, to rare or undefined diseases like COVID long haul. Mymee has matched more than 90 potential unique triggers with more than 150 unique symptoms and 1,000s of combinations of both.
Real results for real people
The hardest part of autoimmunity is not only debilitating symptoms, but also the way those symptoms get in the way of life and reduce time available for what and whom you care about most. For that reason, Mymee goes beyond symptoms reduction in measuring outcomes. Success is determined by what is meaningful to gain back for each individual: Whether that is going back to work full time, or being able to enjoy favorite activities again, or more quality time in the expansive role of being a mother.
Read some of our
success stories
to see how Mymee has helped make a meaningful difference in each person's unique case.
Partnering with Mymee
Mymee is not a cure, nor is Mymee a prescribing physician, nor does Mymee replace a prescribing physician. Mymee is completely complementary to an individual's prescribing physicians. In particular with systemic autoimmune diseases, and COVID Long Haul, because the symptoms can be so widespread in the body, often individuals may be taking 3 or more drugs in addition to immunosuppressants, in order to treat each symptom. A byproduct of reducing symptoms and starting to regain health, is that the patient's need for all of the different drugs starts to go down. Mymee encourages individuals to consult their physician on questions related to how to taper or change any medications, and if a Mymee enrollee does not have access to an accredited physician who can help them, Mymee will provide suggestions or referrals.